[vc_row][vc_column][vc_column_text]
We would like to introduce the lastest innovative products from Canabidol™ – Our much anticipated 75% CBD Cannabis Oil
After a year in development we are pleased to announce its finally here. This 75% oil is golden amber, rich in tepenes, producing an outstanding flavor profile.[/vc_column_text][vc_row_inner][vc_column_inner]
[/vc_column_inner][/vc_row_inner][vc_column_text]
 Not All Cannabis Oil is Created Equal
Our proprietary engineering process has been developed to isolates and removes any unwanted compounds, while creating the maximum potency level of phytocannabinoids.  state-of-the-art technology in employed to ensures a full-spectrum oil, that includes both high levels of Canabidiol, Cannabinoids and terpenes. This guarantees a consistent, pure, and premium product for our customers
High Performance Liquid Chromatography Guarantee
Accurate testing of the product is essential to ensure our products our products quality, potency and purity. We measure CBD levels using state of the art High Performance Liquid Chromatography (HPLC) equipment. In addition to testing CBD levels in every batch of Canabidol CBD oil, we run a full unique terpene profile and test for microbiological contamination, heavy metals and pesticides
Don't just take our word for it
We validate our tests by employing independent labs to test our cannabis oil.  The labs that we work with are just a few in the world that are qualified and capable of doing the testing that is necessary to meet our quality standards. We make sure there is never a question of what an individual is receiving when they make a purchase.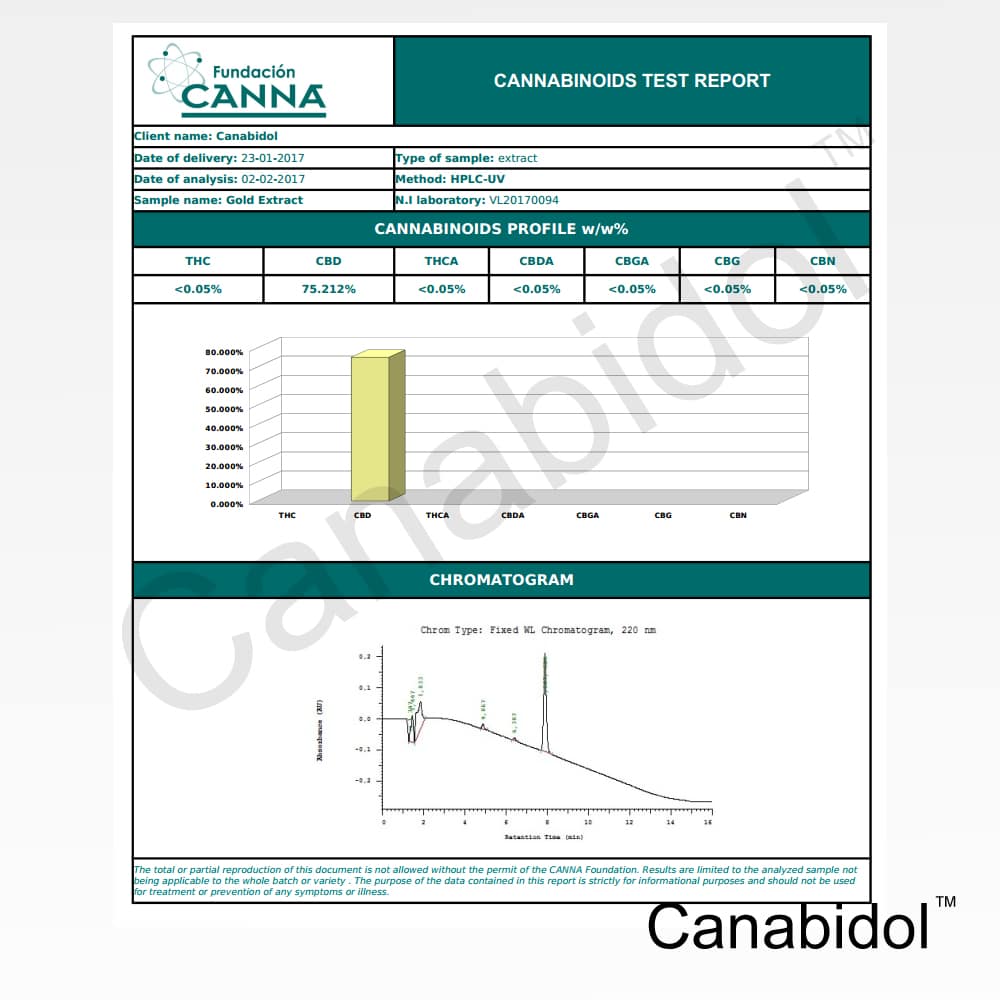 [/vc_column_text][vc_column_text]
Product Description
Canabidol™ 75% CBD Oil
1ml of 75% CBD Cannabis oil in a easy to use syringe applicator


Ingredients:
Cannabis Oil Facts:
Each Serving Contains: 75mg of CBD and 100mg of Cannabis
Each Syringe Contains: 750mg of CBD and 1000mg of Cannabis
Serving Size: 0.1ml
Number of Servings: 10
Suggested Use:
Take 0.1ml (75mg) – Twice daily.
Place between your gum and cheek and hold there pressing firmly against the gum without moving for about 8-10 seconds. Then move your finger (circular or side to side) until you feel it grab to your gum.
[/vc_column_text][/vc_column][/vc_row][vc_row][vc_column][/vc_column][/vc_row]