100% Cannabis – CBD Cream
FREE delivery
Tomorrow
, Dec 02, Order within 2 hrs, 58 mins.
Details
CBD by BRITISH CANNABIS™ CBD RESCUE CREAM® is the first clinically proven cannabis cosmetic in the UK to repair, restore and soothe your skin. Discover the power of the cannabis plant with our premium CBD RESCUE CREAM® available in two CBD strengths, 250mg and 500mg.
Sorry, you've missed out.
This product is currently out of stock!
100% Cannabis - CBD Rescue Cream
CBD by BRITISH CANNABIS™ products by BRITISH CANNABIS meet the exacting standards required by pharmacist for the retail sales of CBD.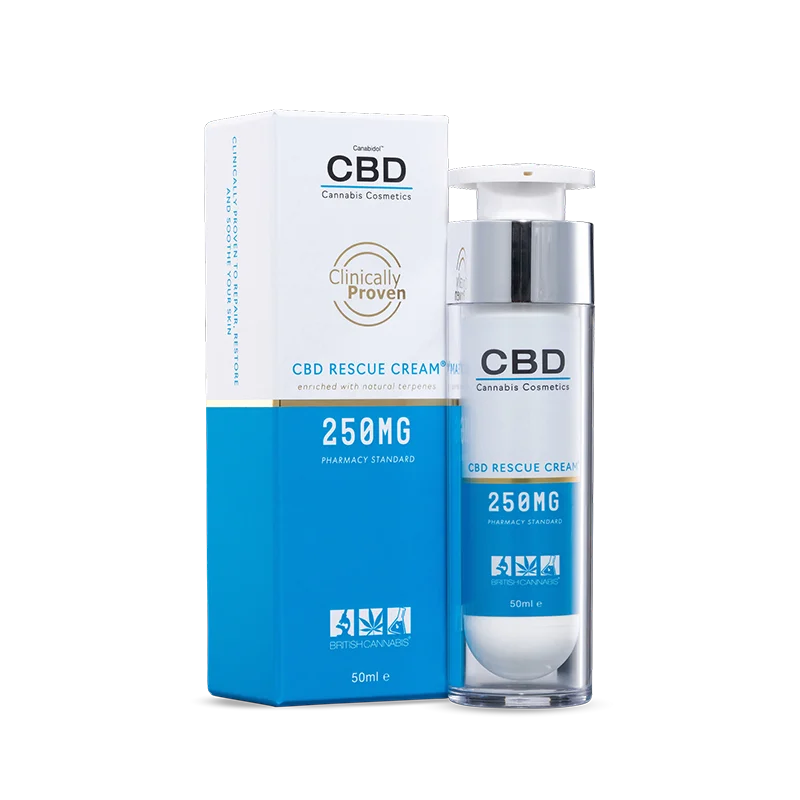 The Award Winning 100% Cannabis – CBD Rescue Cream
Our multi award-winning CBD RESCUE CREAM® is the first clinically proven CBD consumer product to repair, restore and soothe your skin. Infused with the quality CBD full extract oil and fragranced with real cannabis terpenes, this nourishing CBD cream formula will leave your skin feeling healthful and restored.
Full extract cannabis embraces all the plants natural waxes and fatty acids, as a result encouraging your skin to repair, restore and calm – providing instant relief.
Our easy-to-use 50ml bottle allows for a highly targeted application of cosmetically formulated CBD cream, directly to your skin!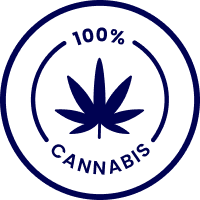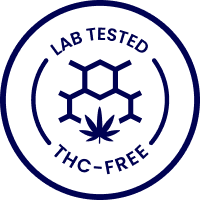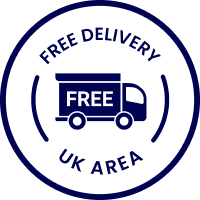 Apply CBD cream to designated area of skin and massage in until fully absorbed. To activate pump, continue to pump top until CBD cream starts dispensing. 
Aqua, Cannabis sativa L. Seed Oil, Cetearyl Olivate, Theobroma Cacao, Cannabis sativa L. Extract (CBD), Ylang Ylang Oil, Eucalyptol, d-Limonene, α-Pinene, β-Pinene, Linalool, Terpinolene, Benzyl Alcohol, Benzoic Acid, Sorbic Acid.
CBD RESCUE CREAM® 250mg :
One pump of 250mg delivers 1.1mg of CBD
CBD RESCUE CREAM® 500mg :
One pump of 500mg delivers 2.2mg of CBD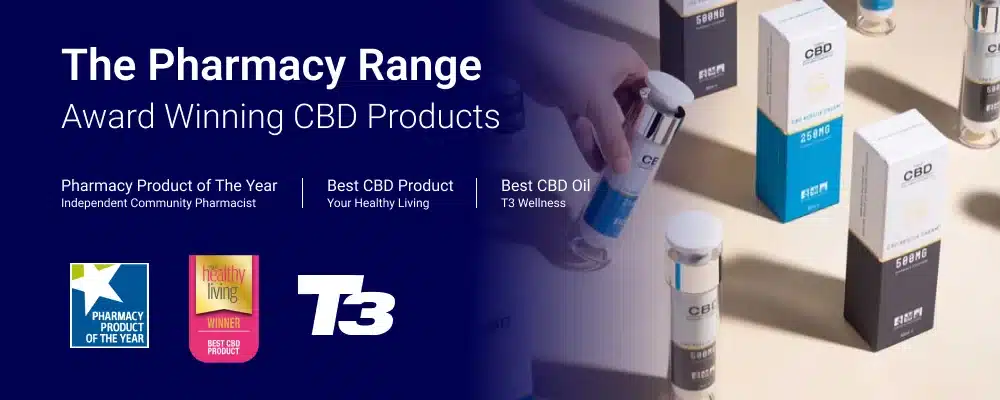 Free next working day delivery (UK) available when you spend £20 or more.
Once your order has been placed you will be sent updates on your delivery. Door-to-door tracking and unbeatable CBD. 
Please note: Order must be placed before 2pm. Some UK postcodes are exempt from next day delivery. 
For external use only. Do not use on broken or damaged skin.
New users are recommended to start on a low dose and build up gradually. For further information on your dosage, please contact us via customerservice@canabidol.com or call us on +44 (0)203 1986 986.
IN AN EXCLUSIVE PARTNERSHIP WITH BRITISH CANNABIS™
Your CBD GUIDE
With Dr. Christian Jessen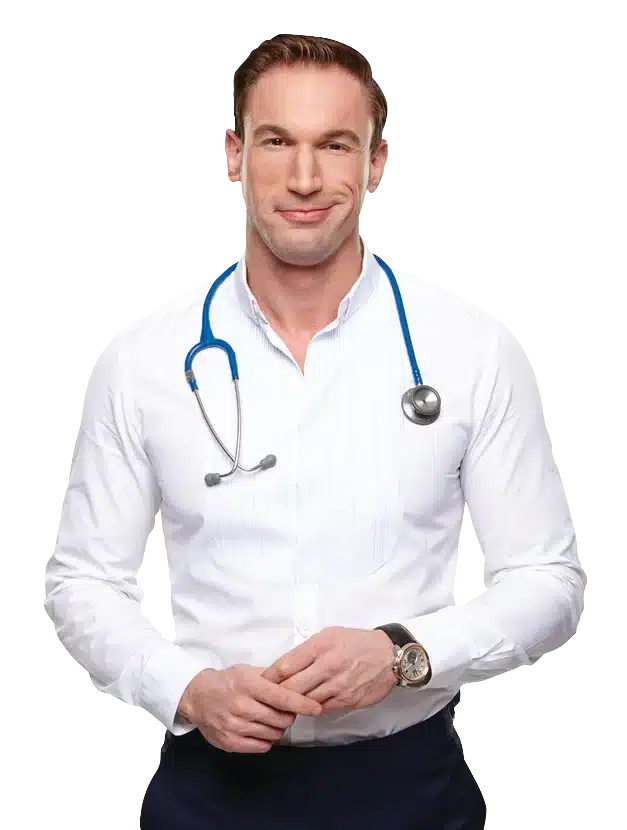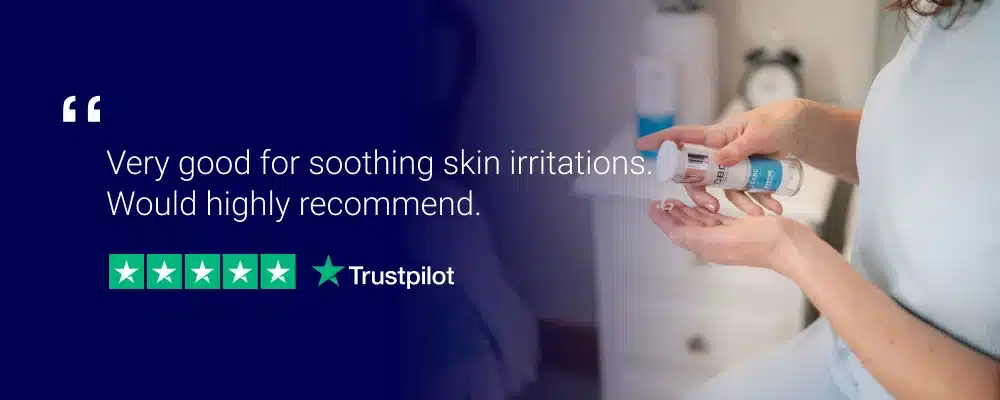 Reviewed by 16 customer(s)
Happy results

Im struggling with flare-ups, this cream has provided soothing relief and has visibly reduced redness. The cream's calming properties work quickly to soothe the irritated areas, and the reduction in redness is visibly apparent within a short time. A heartfelt thank you!

My best companion

Whether I'm dealing with dry air or exploring new climates, this cream keeps my skin moisturized and happy. The convenient size fits perfectly in my carry-on, making it a must-have for all my adventures.

A litle luxury every day

It's not just about skincare, it's a moment of self-care that I look forward to. The cream's texture and delicate scent make it feel like a luxurious spa treatment in the comfort of my own home. Whether I'm dealing with a sudden flare-up of redness or simply want to enhance my skin's overall appearance, the cream is there to provide reliable relief. The comforting sensation  reminder of its soothing effects, which I've come to rely on during moments of skin discomfort.

Help with dryness

This rescue cream is like a healing touch for my hands. My hands often suffer from dryness and cracks due to constant washing. This cream has restored their softness and prevented further damage. I carry it with me everywhere, and it's become an essential part of my daily routine. 🥰

For sensitive skin

My skin's sensitivity made it a challenge to find products that wouldn't cause redness, inflammation, or breakouts. However, this cbd cream it calms redness and irritation, and i no longer dread trying new skincare products. This cream has truly transformed the way i approach my skincare routine.

Great result on my skin

Over time, i began to observe positive changes in my skin's overall appearance. Redness seemed to be less pronounced, and my skin felt smoother and more hydrated. I feel more confident in my own skin. Thank you for this

Def repurchase!

Truly worked wonders for my skin. I've tried various creams, but this one provided noticeable relief within minutes. The cooling sensation is incredibly soothing. After having such a positive experience with the CBD cream, I decided to explore other CBD products they have.

It has improved the overall appearance of my skin, and i am happy with the results so far. I would definitely recommend this cream to anyone looking to reduce their skin redness and inflammation, or even just to get a smooth skin. This cream has certainly been worth the purchase price and the fast delivery made it even more convenient. I am pleased with the results so far and plan to purchase this product again in the future.Thank you.
Why choose CBD RESCUE CREAM?
BRITISH CANNABIS™ introduces the UK's inaugural Clinically Proven Cannabis Cosmetic Cream, harnessing the power of nature to deeply moisturize and rejuvenate the face and body, catering to diverse skin types.
Experience the potency of the cannabis plant through our scientifically validated CBD Rescue Cream.
Our convenient 50ml bottle ensures precise and effortless application of our specially formulated CBD cream, enabling you to nourish your skin wherever you are.
Enriched with premium CBD full extract oil and delicately scented with authentic cannabis terpenes, this vegan-friendly formula provides deep nourishment, revitalizing your skin throughout the day and night. You'll be left with a rejuvenated and healthy complexion.
Crafted with authentic organic cannabis oil, our Clinically Proven CBD Cream represents a groundbreaking advancement in skincare, dedicated to repairing, restoring, and soothing your skin.
As a premium BRITISH CANNABIS™ offering, this all-natural product embodies the finest, pure CBD excellence, fundamentally altering your perception of cannabis cosmetics.
No interest in experiencing a high?
No need to fret as our CBD Rescue Cream is THC-free and fully compliant with legal regulations!
Continue reading to explore insightful details about CBD Rescue Cream, including its legality, health advantages, appropriate dosage, safety precautions, and much more.
One pump of 250mg delivers 1.1mg of CBD
One pump of 500mg delivers 2.2mg of CBD
Clean, safe
No pesticides 
100% Cannabis sativa L
Non-GMO | Gluten-Free | Vegan 
Made with the finest ingredients  
Always third-party tested 
Made in the UK
Smooth and pleasant CBD experience
Made & Grown on organic farms in Portugal, Europe
Award-Winning
Approved Facility – Our hemp oil is manufactured in a certified facility in the UK
CBD cream is a powerful ally in combating dermal inflammation and may be an effective solution for various skincare concerns. Its anti-inflammatory properties may help aid in reducing redness, swelling, and discomfort associated with existing breakouts or skin irritations.
By embracing the soothing capabilities of CBD Rescue Cream, you can experience its transformative effects firsthand, unveiling healthier and revitalized skin. Embrace the natural potential of CBD and discover a new level of skin nourishment and restoration.
Is CBD (Cannabidiol) Legal?
CBD, the non-intoxicating component derived from the cannabis plant, is legally permitted and widely available. Its legality stems from being sourced from licensed producers in various regions, ensuring compliance with regulations and quality standards.
Gently apply the CBD cream to a specific area of cleansed skin and massage thoroughly. For optimal results, you can reapply the cream every 4-6 hours or as needed.
Rest assured that all our BRITISH CANNABIS™ CBD cream products undergo rigorous testing by certified third-party laboratories, ensuring the utmost quality for our valued consumers. Prior to using a CBD cream skincare product on your entire face, we recommend conducting a patch test on a small area of the skin, such as your forearm. Discontinue use if any irritation occurs.
Collaborating With The Community
At BRITISH CANNABIS™, our extensive knowledge and expertise in the cannabis industry come to life at our research and development cannabis farm in Portugal. Here, we engage with a local community dedicated to harvesting Cannabis sativa L., allowing us to deliver premium CBD products of the highest quality.
By honing our cannabis cultivation techniques and actively supporting product research and development, we remain agile and compliant with evolving industry regulations. This enables BRITISH CANNABIS™ to introduce the most potent and effective cannabis supplements and cosmetics to the market.
Advantage Of CBD Rescue Cream
It is a pioneering consumer product that has been clinically proven to repair, restore, and soothe your skin. Infused with high-quality CBD full extract oil and delicately scented with authentic cannabis terpenes, this nourishing CBD cream formula will leave your skin feeling revitalized and healthy.
Experience the transformative effects as your skin is nourished and rejuvenated, leaving you with a renewed sense of confidence and radiance.
Designed specifically for the pharmacy sector, our CBD range is meticulously developed to meet the stringent standards demanded by pharmacists for the retail sale of CBD. With CBD by BRITISH CANNABIS™, you can explore a variety of CBD products with confidence, knowing that they adhere to the highest quality and safety requirements.
As one of the most established brands in the UK, CBD by BRITISH CANNABIS™ has been at the forefront of the industry, driven by a relentless pursuit of excellence, unwavering commitment to compliance, and a dedication to providing CBD products that inspire trust and reliability.