Synergy CBG + CBD RESCUE CREAM®
FREE delivery
Tomorrow
, Dec 02, Order within 2 hrs, 44 mins.
Details
Introducing our brand new Synergy topical lotion, we've upgraded our original clinically proven CBD RESCUE CREAM® formula with an additional cannabinoid, cannabigerol (CBG). The union of these two dynamic cannabis compounds deliver a myriad of skincare benefits.
Sorry, you've missed out.
This product is currently out of stock!
Synergy CBG + CBD RESCUE CREAM®​
CBD by BRITISH CANNABIS™ products by BRITISH CANNABIS meet the exacting standards required by pharmacist for the retail sales of CBD.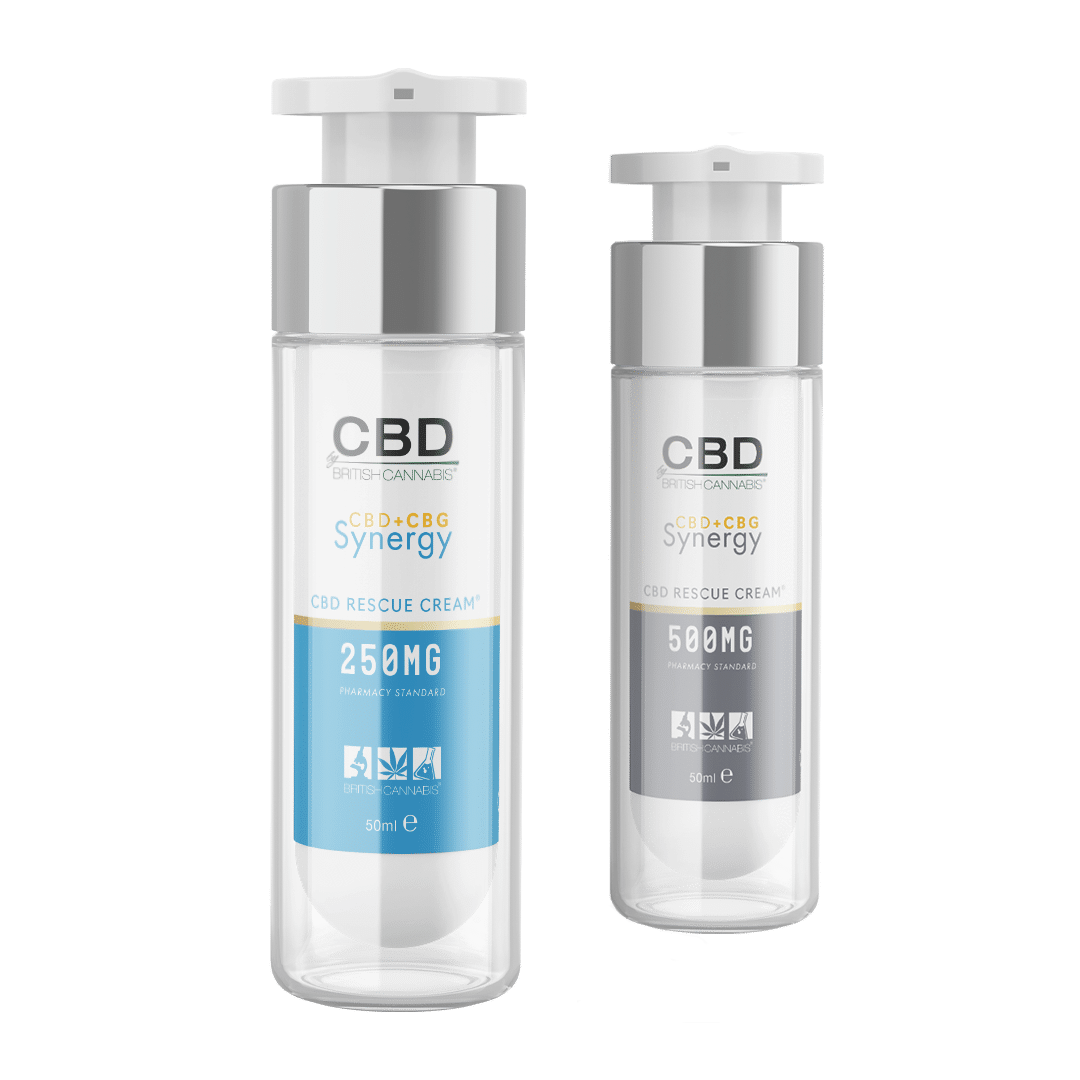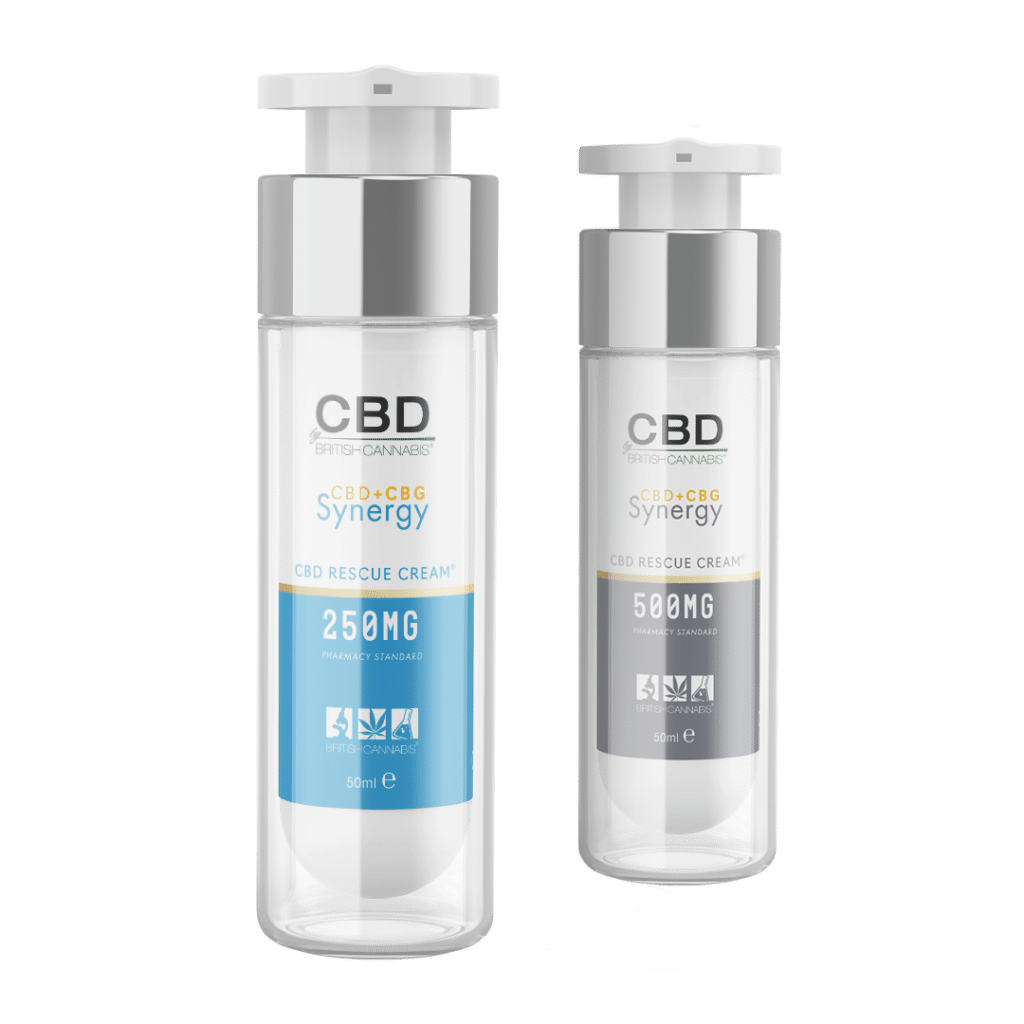 Made with our award-winning clinically proven topical formula...
Synergy CBG + CBD RESCUE CREAM® is a result of what we do best. Innovate.
The two cannabinoids (CBD and CBG) alone deliver remarkable results, however the union of the two deliver countless skincare benefits which you can now experience with just one pump.  
Our clinically proven formula is enriched with plant derived cannabis terpenes, essential oils and other skin promoting properties. Developed to meet the exacting standards required within the pharmacy sector.
Upgrade your daily skincare regime with our Synergy CBG + CBD RESCUE CREAM® proven to repair, restore and soothe skin.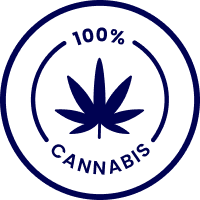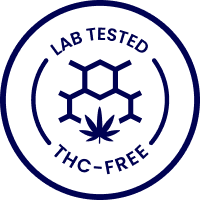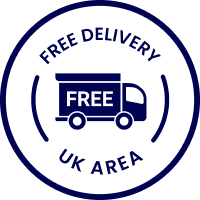 Apply cream to designated area of skin and massage in until fully absorbed. To activate airless pump, press top repeatedly until cream starts dispensing.
Aqua, Cannabis sativa L. Seed Oil, Cetearyl Olivate, Theobroma Cacao Seed Butter, Cannabigerol, Cannabis sativa L. Extract (CBD), Ylang Ylang Oil, Eucalyptol, L-Linalool, D-Limonene, α-Pinene, β-Pinene, Terpinolene, Benzyl Alcohol, Benzoic Acid, Sorbic Acid.
Synergy 250mg – One pump delivers approximately 0.5mg of CBD + 0.6mg of CBG
Synergy 500mg – One pump delivers approximately 1mg of CBD + 1.2mg of CBG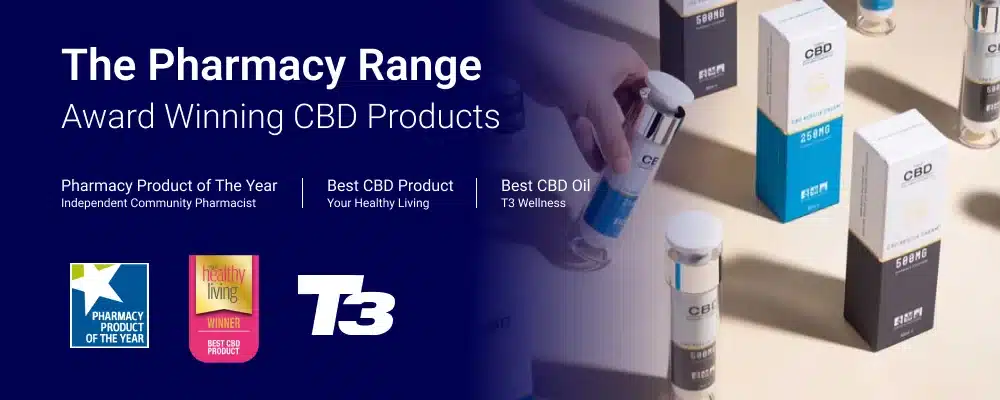 Free next working day delivery (UK) available when you spend £20 or more.
Once your order has been placed you will be sent updates on your delivery. Door-to-door tracking and unbeatable CBD. 
Please note: Order must be placed before 2pm. Some UK postcodes are exempt from next day delivery. 
Caution: For external use only. Avoid contact with eyes. Do not apply to broken or irritated skin. If skin sensitivity occurs, discontinue use. Store in original packaging. Consult your healthcare professional before using if you are pregnant, looking to become pregnant or are breastfeeding. Our products are not intended to diagnose, treat, cure or prevent any disease.
IN AN EXCLUSIVE PARTNERSHIP WITH BRITISH CANNABIS™
Your CBD GUIDE
With Dr. Christian Jessen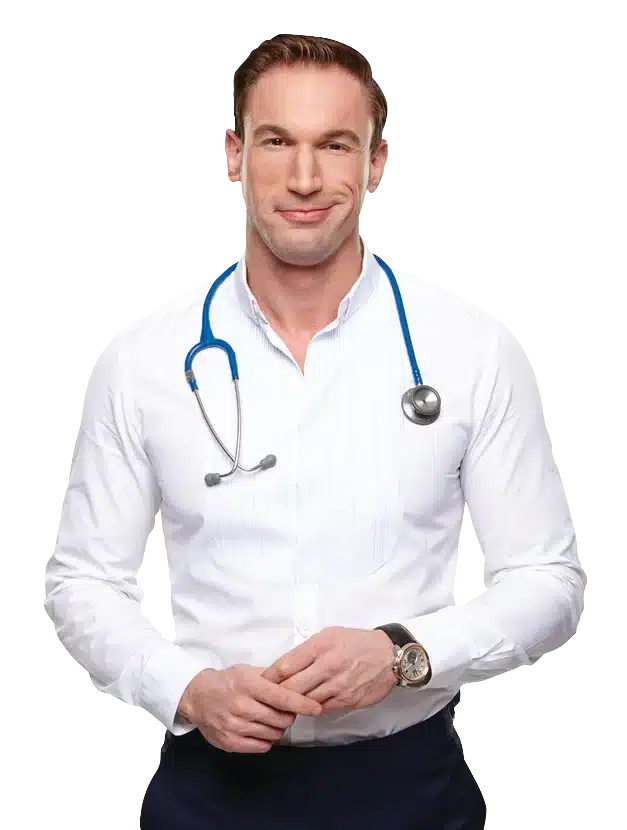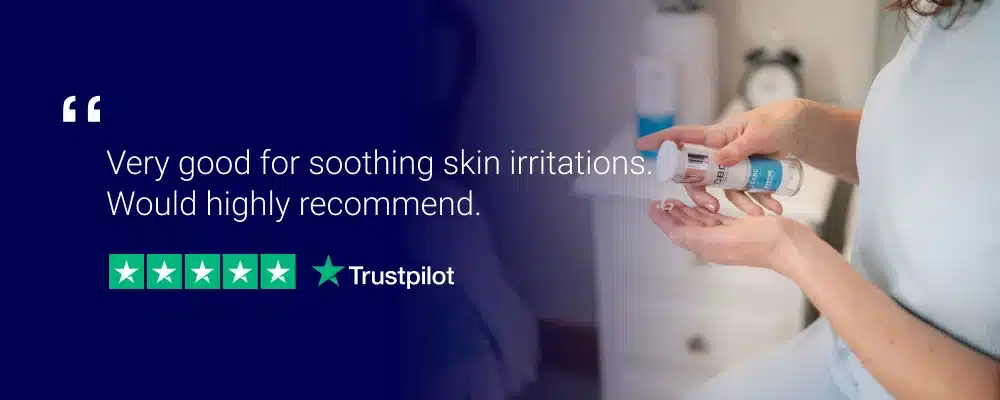 Reviewed by 17 customer(s)
Best quality cream

It has been a game-changer for my dry patches. It's moisturizing and has reduced redness. I find myself looking forward to my skincare routine, which wasn't always the case in the past. I'd love to see a version with a stronger strength option tho. I wholeheartedly recommend giving this cream a try. It might just be the magic touch your skin has been longing for.

Confidence boost

This cbd and cbg is my new best friend! My skin feels refreshed, and the subtle glow it provides is amazing. I've received compliments on my complexion, and it's helped fade some of my old acne scars. My only minor gripe is that the cream can feel a tad greasy initially. But i will definitely buy it again when this one finish 🥰

Soothing skin

I'm thrilled to have stumbled upon this cream. Dealing with sensitive skin has been a constant struggle for me, as even the gentlest of products would sometimes trigger redness and irritation. However this cream is incredibly soothing on my sensitive skin. So thank you for this one! 

Work like miracle

I can't believe the results I've seen after using this cbg cream. My skin feels smoother and more relaxed than ever before. The scent is soothing, and I've noticed a reduction in redness and irritation. My only suggestion would be to make the container a bit larger – I'm going through this stuff like crazy!

Good quality cream

Using this  cream as part of my nighttime routine has truly transformed my skin. I apply a small amount to my face and neck, gently massaging it in until it's fully absorbed. The cream has a luxurious texture that feels indulgent and soothing on the skin. After consistent use, ive noticed a significant improvement in the texture and tone of my skin. My complexion looks more even, and those occasional breakouts are less frequent and less severe.

Redness relief

It reduces redness and inflammation, providing a sense of calm to my complexion. I've even noticed fewer flare-ups since incorporating it into my routine. 

From dull to dazzling

This cream has become my go-to skincare product, and I can't help but share the amazing results I've experienced. The natural glow it provides is unparalleled, It revitalizes my tired skin, leaving it looking refreshed and dewy. 

Will buy again

As a last resort, i decided to give it a go, im glad i did! It's not a replacement for a good skin care routine, but it's a great addition to help soothe the occasional skin flare up. Nevertheless, im glad that  gave it a shot and im always keeping an open mind when it comes to trying out new products.
Why choose Synergy CBG + CBD RESCUE CREAM®?
CBD RESCUE CREAM® was the UK's first clinically proven cannabis cosmetic by BRITISH CANNABIS™ laboratories. Discover why you should consider using our cannabis cosmetics as part of your skincare daily routine.
Experience precise application with our convenient 50ml airless pump bottle, designed to deliver cosmetically formulated CBG or CBD cream directly onto your skin.
Enriched with premium CBD full extract oil and infused with authentic cannabis terpenes, our nourishing formula is both vegan-friendly and revitalizing, providing your skin with a healthy and rejuvenated feel throughout the day and night.
Crafted from organically cultivated hemp and responsibly sourced cannabis oil, this clinically tested cosmetic formula represents a groundbreaking advancement in CBD skincare. Experience its reparative, restorative, and soothing properties as it revitalizes your skin.
Introducing yet another exceptional, all-natural offering from BRITISH CANNABIS™. Embodying the essence of pure CBD excellence, these products redefine the perception of cannabis cosmetics, forever transforming your skincare experience.
Every batch we produce undergoes rigorous testing to ensure precise cannabinoid levels, purity, and THC-free status. Rest assured, our products are completely safe and fully compliant, meeting the highest standards of quality and legality.
Please click here to access comprehensive details regarding our diverse CBD products' health advantages, recommended dosage, and legal status.
Offered in two cannabinoid concentrations, ranging from moderate to high.
Crafted using specially cultivated Cannabis sativa L. strains with high cannabidiol (CBD) content.
Non-GMO and Vegan Certified, ensuring a plant-based and ethical choice.
Formulated with organically grown, premium-quality ingredients.
Undergoes rigorous laboratory testing to ensure precise cannabinoid levels and purity.
Proudly made in Britain, adhering to stringent manufacturing standards.
Our formula has received multiple awards for being the best CBD product.
Manufactured in a certified facility located in the United Kingdom.
Is CBD (cannabidiol) Legal?
CBD is the non-intoxicating extract from the cannabis plant, available in many products including oils and cosmetics. It is completely legal from licensed producers in the UK, like CBD by BRITISH CANNABIS.
CBD, derived from the cannabis plant, is a non-intoxicating extract present in a wide range of products, including oils and cosmetics. In the UK, CBD obtained from licensed producers, such as CBD by BRITISH CANNABIS™, is completely legal and subject to rigorous regulations to ensure compliance and maintain high-quality standards. Our extensive selection of CBD products offers a dependable and credible choice for individuals seeking the potential advantages of CBD without experiencing any psychoactive effects.
Apply CBD cream to a targeted area of clean skin and massage well. You can apply the cream every 4-6 hours or whenever needed.
Our BRITISH CANNABIS™ CBD cream products undergo rigorous testing by certified third-party laboratories to ensure the utmost quality for our customers. Before applying a CBD cream skincare product to your entire face, we recommend conducting a patch test on a small area of skin, such as your forearm. If any irritation occurs, discontinue use immediately.
Engaging With The Community
At BRITISH CANNABIS™, we leverage our extensive expertise and knowledge in the cannabis industry through our dedicated research and development cannabis farm situated in Portugal. Here, we collaborate closely with a local community in harvesting Cannabis sativa L. to create our exceptional CBD products.
By mastering our own cannabis cultivation methods and actively supporting product research and development, we possess the flexibility and compliance necessary to adapt swiftly to evolving industry regulations. This enables BRITISH CANNABIS™ to deliver the most potent cannabis supplements and cosmetics to the market.
Advantage Of Synergy CBG + CBD Rescue Cream®
Building upon the success of our clinically proven CBD RESCUE CREAM®, we have enhanced the original formula by incorporating an additional cannabinoid known as cannabigerol (CBG). This powerful combination of two dynamic cannabis compounds offers a wide range of skincare benefits, providing a synergistic effect that takes your skincare routine to the next level.
CBD cream is commonly used to alleviate dermal inflammation and has been found to be effective in reducing swelling, pain, and redness associated with existing breakouts. It may also provide relief from skin disorders such as eczema and psoriasis, helping to soothe irritation caused by these conditions.
Our CBD product line has been specifically designed for the pharmacy sector. Curious to know more? CBD by BRITISH CANNABIS™ presents a variety of CBD products that meet the stringent standards set by pharmacists for the retail sale of CBD, ensuring peace of mind.
As one of the most established brands in the UK, CBD by BRITISH CANNABIS™ has been at the forefront of the industry, consistently delivering excellence, adhering to regulations, and providing CBD products that instill trust and reliability.